Sharing E.C.
Space Type
Coworking Space
Rua Cônego Eugênio Leite 623 - Pinheiros, São Paulo, Brazil
The oldest and traditional coworking space in the city of São Paulo (and one of the first in Brazil). We have an entire building at your disposal with everything you can imagine, meeting room, private rooms, decompression space, video game room, telephone booth, electric bikes at your disposal, etc.
We are the campus of the University of Arizona in Brazil, in addition to being also the campus of the largest accelerator in Latin America, StartUp México. We are part of COLATAM, the largest Latin American coworking network with more than 400 active members.
Amenities
WiFi
Kitchen
Tea & Coffee
Receptionist
Print
Scan
Copy
electric bike
video game
popcorn
garage
locker room with shower
Space Location
Contact Details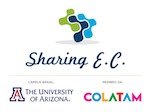 Sharing E.C.
Booking Enquiry
Need to know
Duration
Minimum term: 1 day
Opening Hours
Monday-Friday: 24/7
Saturday: 24/7
Sunday: 24/7