Search Remotely is the leading online platform for remote jobs. Are you ready for remote work? Search Remotely is dedicated solely to remote jobs and providing a service for both employers and remote job seekers.
From online courses to CV support and managed remote recruitment, we have a full suite of services to help you enjoy all the benefits of remote work. This step-by-step guide is split into two sections, showing you the wealth of resources and benefits available when you Search Remotely. There's a section for Remote Workers and then a section for Employers.
We're committed to promoting and developing remote jobs – everything on this platform is remote.  And we're happy to help you find your perfect remote job or perfect remote employee.


Remote Jobs for Remote Workers
Whether you're an experienced remote worker or you've never had a remote job, there's an opportunity for you. With a few simple steps you can optimise your search and application, getting you closer to your dream remote job. Here is how you can benefit from the different features.
1. Search for Remote Jobs
Go to the remote jobs page and find your perfect remote job by using the filters. Every job that's posted on Search Remotely is remote, so you don't need to filter or specify remote jobs. The four filters help narrow down your search.
Job Category – these filters focus on the most popular remote job roles, such as digital marketing and sales.
Job Type – select to view full time, part time, contractor and internship roles.
Job Region – although all the jobs are remote, employees often specify the location of their employees, so you can filter to remote jobs in your region.
Posted Date – this allows you to filter to jobs posted within the previous 1, 5, 10 or 30 days.
There are thousands of remote jobs to search from. New jobs are posted multiple times every single day. For starters, check out highest paid remote jobs for 2021 and beyond You always have the latest selection of opportunities from employees actively hiring.


2. Apply for Remote Jobs
Everyone can search for Search Remotely's job opportunities. However, applying to any of these jobs is a perk of being a Search Remotely member. Membership is free. You just need to sign up using your email.
As a Search Remotely member you can apply for any job on the platform. You will be redirected to the application page for each remote job position. Do note that the application process will be slightly different for every job, dependent on the employer.
Signing up to Search Remotely opens up a full range of other benefits as well. You can receive notifications for jobs along with tips and resources to become fully remote. Many employers are now remote first and with Search Remotely you can be remote first as well.


3. Boost Your Skills With an Online Course
Learn the skills so you can be location independent, without leaving your home. All the courses on Search Remotely are 100% remote, so you perform them anywhere. They're all designed to boost the skills you need to get a remote job.
Visit the Search Remotely Online Courses and there are two different ways to find the course you need. Use the search bar to find a specific course or skill, anything from digital marketing to blockchain. Or filter jobs by different remote job categories. If you need inspiration check out the best online courses for remote job seekers.
Courses are split into the eight most popular remote job categories: copywriting, customer service, design and creative, developer and coding, digital marketing, sales, virtual assistant and more. There are also courses that will help you find a remote job.


4. Remote Job Seeker Support
Remote jobs require specific remote skills. And it's important you advertise your remote skills when applying for a remote job. Your CV or resume should look different to when you apply for a traditional job, highlighting your suitability for a remote position. And you can go further by improving your interview skills and job applications, like knowing the must have skills to put on your resume.
Search Remotely provides a dedicated service for remote job seekers, with three packages that will boost your applications and get you closer to landing a remote job.
Basic Remote Job Support – enjoy personalised support, additional resources and a 30-day plan working towards remote employment.
Premium Remote Jobs Support – also includes a weekly jobs catch up consultation, interview preparation and review of your job applications.
Resume & Cover Letter Makeover – Get a brand new remote-ready resume and cover letter, along with personalised advice and coaching.
5. Book Coworking Spaces
Working from home and remote working are not the same thing. Sure, you can work remotely from home, but you can also work remotely from anywhere. Many remote workers use coworking space. These enable you to work in almost any location around the world.
These shared workspaces provide the amenities expected of a traditional office, but can be rented by the hour, day or month. Coworking spaces have helped digital nomads to spread their wings as they provide a very professional place to work. Some of the most popular destinations are Bali, Barcelona, Chiang Mai and Sao Paulo. For more inspiration see the top ten cities to live and work remotely.
On Search Remotely it's easy to browse and book your next coworking space. Each space has a list of amenities and opening times. You can make a booking enquiry directly via Search Remotely, as well as read and leave reviews.


6. Book Coliving Spaces
Now you've got the remote skills and remote job, how about taking remote working to the next level with a coliving space. Coliving is now central to the life of many digital nomads, an affordable and flexible way to travel and work around the world with like-minded individuals.
Coliving is usually cheaper than traditional renting and enables you to quickly move between locations. You share a living space ("co-living") that is clean, furnished, affordable, flexible and adapted to enable efficient working from "home."
Search Remotely helps you find and book the world's best coliving spaces. There are no booking fees, a lowest price guarantee and full payment protection. Visit this page to search for the coliving spaces – you can easily select by country and also zoom in on the most popular digital nomad locations.


Finding the Best Remote Talent – Guide for Employers
Traditional job sites give you traditional benefits, such as reaching thousands of candidates, or paying to boost promotion. But there's a big difference between a great remote worker and a great office workers. Out of those thousands of applications you will need to understand who meets the job specifications, who has remote work experience, who fits your remote team culture and values, and who will bring outstanding value to your business.
Search Remotely is different because it's dedicated to remote jobs. So you can specifically target remote workers with the skills needed for a remote job. Hiring a remote workforce gives you access to a wider talent pool, lowers your costs and salaries, improves productivity and retention, and is more sustainable in the long term. Find out even more benefits to hiring a remote workforce.
Search Remotely is trusted by over 250,000 remote job seekers. We provide different options to help optimise your search and recruitment of the best remote talent.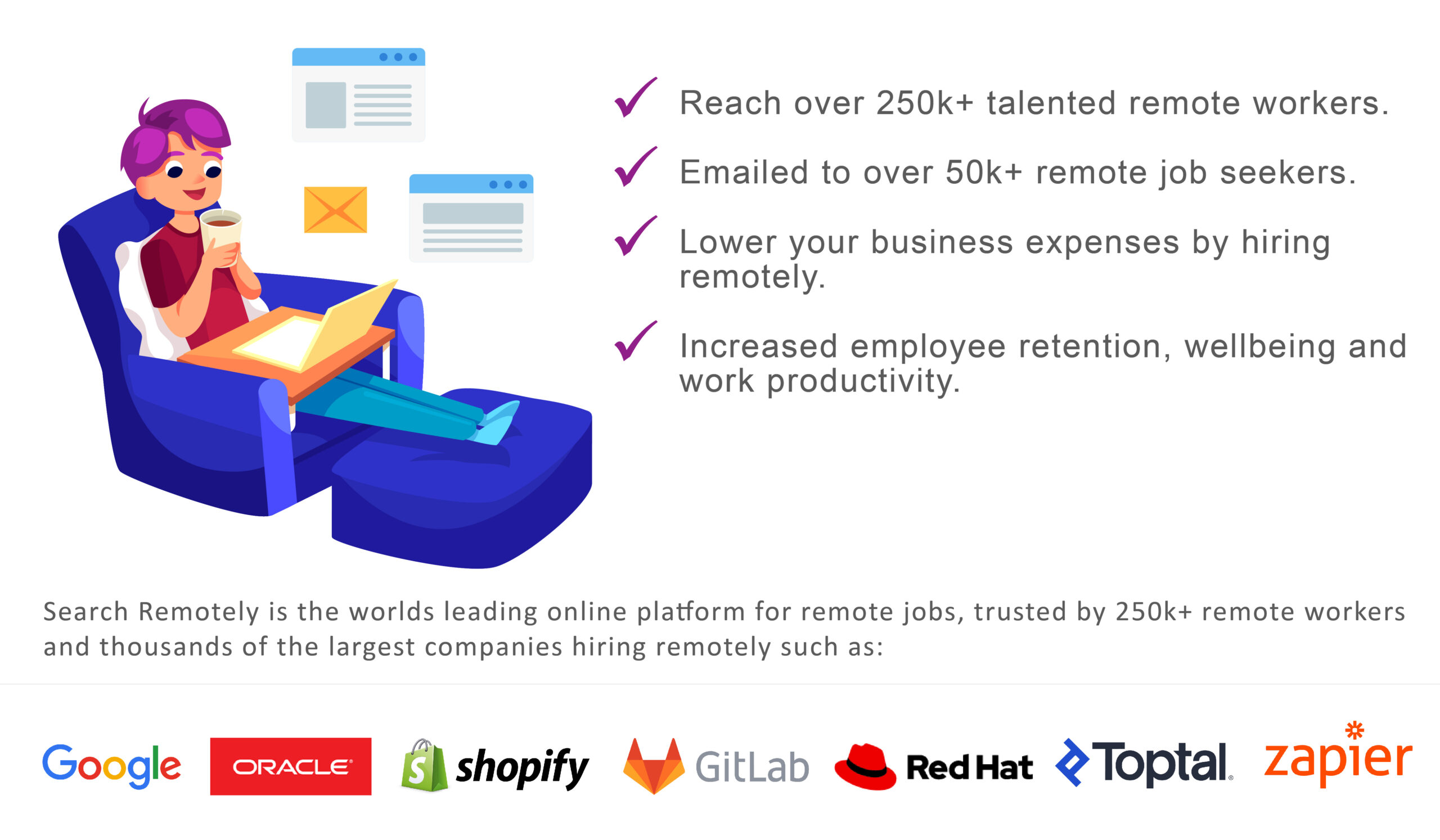 1. Remote Job Posting
A basic job posting costs USD 69 and comes with a host of benefits. It's easy to post your job, including its description and terms. With this plan jobs are published within 24 hours and posted for 60 days. We ensure your job has maximum reach.
Featuring your job in our jobs alert newsletter, targeted to remote job seekers
Sharing your job on our social pages
Highlighting your job on the remote jobs page
Applicants can apply to your job via email
The Search Remotely Premium Plan costs USD 129 and includes unlimited job postings. As a dedicated remote jobs platform, Search Remotely helps you cut directly to the best talent. While other job sites may help you reach more people, Search Remotely specifically sources talent for your jobs.
This can also include paid promotion on social sites for your job post, job alerts for job seekers with specific skills, and promoting your company as a remote employer.


2. Specialised Remote Recruitment
As remote experts we know how to find and identify the best talent. And we know how to separate good remote workers from people who apply to jobs simply because they like the idea of working remotely. We also provide a full recruitment agency service, making it even easier for you to find talent.
Recruitment consultants typically specialise in a specific job role, such as healthcare or web development. These agencies can only recruit based on half the job requirements. Remote teams need employees who also fit their remote working culture. As remote jobs specialists, we help you access talent and then narrow this talent down to the best people for your job. This includes:
Unlimited job postings
Home page and other promotion
Screening of candidates
Video interviewing of candidates
Shortlisting of up to five potential candidates
Selection recommendations
Candidate reference checking
We use objective methods to efficiently screen applications and bring hundreds of thousands of candidates down to the best 10 -15 for your job. We'll share our methods with you and conduct multiple screening rounds until we get down to a manageable list. Screening and shortlisting is time consuming and we do the heavy lifting for you.
The Search Remotely team will then conduct initial interviews so we can reduce the list to the absolute best candidates. We'll also debrief candidates so they understand why they were not selected. Our interviewing is based on both the job specifications and remote working requirements.
You are the employer and you will do the final round of interviewing. It's our job to deliver the very best candidates direct to your HR team or management, up to five outstanding prospects for your remote job.


3. Scale a Remote Team
With Search Remotely it's easy and very affordable to scale your remote team, either as direct employees or contractors. With more individualised plans we'll also support you with job descriptions. We specialise in helping companies find and place remote talent into their positions, and then scale their remote team.
Post an unlimited number of jobs, promote your jobs and access over 250,000 remote job seekers, then allow us to do the heavy lifting in screening, interviewing and shortlisting the best candidates. Contact us for more information.


Work From Anywhere – Employ From Anywhere
The future of work is remote. And the future of work is here, now. Covid-19 accelerated this future to the point that remote work is now remaking where and how we live. Now there are more than 700 million people working remotely around the world.
But the rise of remote work hasn't been matched by remote recruitment. How can you find a remote worker on a traditional jobs platform, where job seekers must filter initially for remote?
Search Remotely is changing this. It's the premium platform for remote job seekers and employers.