What is the suggested work from home or working remotely internet speed, you might ask? Whether you have recently ditched the 9-to-5 grind to start working remotely or you're a work from home veteran, you may be wondering how fast your Internet connection should really be? Do you have the infrastructure in place, at home, to work remotely effectively?"
Do you lack the time to read the entire article? Click here to view our 3.0 minute YouTube Video below.
Many of your professional colleagues would say, "no!"
For instance, researchers at Stanford University studied the work at home set up of workers working from home due to Covid-19. They found that "internet connectivity for video calls has to be 90 percent or greater, which only two-thirds of those surveyed reported having. The remaining third have such poor internet service that it prevents them effectively working from home."
If you would like suggestions on setting up your home office,  you may like these articles:
There's nothing more frustrating than the sound of someone working from home without a proper connection. Over the past two years, work from home has become the norm for millions and millions of people and the speed of the Internet connection is now essential for productivity.
How do professionals define minimum internet speed?
But what kind of Internet speed do you really need when you work from home? We put together a helpful guide to understand the minimum Internet speed that will help you work from home without a hiccup and what is actually overkill.

How do you define minimum internet speed? Minimum internet speed is defined based upon the Mbps. For non-techies, the acronym "Mbps" according to TechTarget is Megabits per second (Mbps). A megabit represents the unit of data per second which is approximates to about 1 million bits . Mbps is used to explain the speed by which data flows through the network. For techies it equates to a unit of measurement relating to network bandwidth and throughput.
Average Mbps by state
When making a decision about whether to work remotely permanently or work while traveling across the United States, it pays to know the average Mbps by state.
As one can imagine, remote workers in the Northeast have the best advantage. Delaware, New Jersey, Maryland, Virginia and Massachusetts takes the top five spots. Which states have the slowest internet speed? West Virginia, Montana, Wyoming, Maine and Idaho are believed to have the slowest internet speed as of 2022 according to the website, HighSpeedInternet.com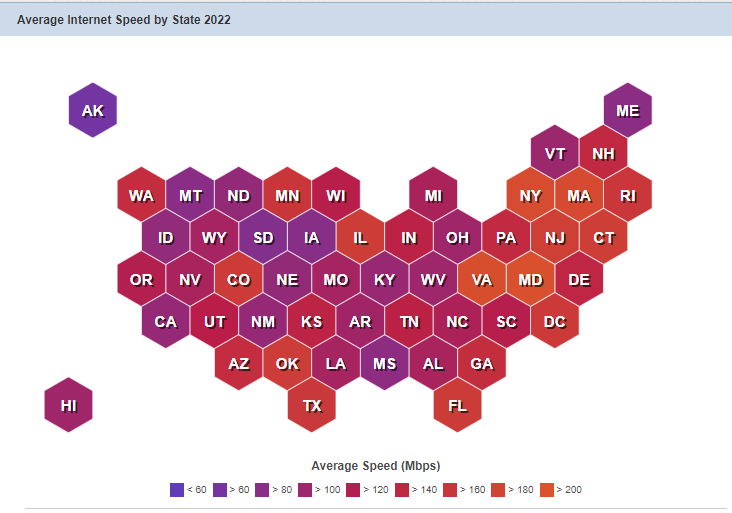 Which countries have the fastest Internet speed?
For many remote workers, home isn't in the continental United States. Digital nomads, entrepreneurs, gig workers and those working remotely travel while working. So it is important to note the top five countries with the fastest mobile internet speed. In 2022, World Population Review identified UAE, South Korea, Norway, Qatar and China as the countries with the fastest internet speed (mbps). Further, the same source determined that Monaco, Singapore, Hong Kong, Romania and Switzerland offered the fastest broadband internet speed.
What is the minimum Internet speed to work from home?
You should have at least 25 Mbps for download and 3 Mbps for upload in order to be able to stream content, keep up with video calls and access any cloud heavy applications that you may be required for your work.
If you are concerned about internet speeds when working from home, you may also like to Search Remotely tips on cyber security:
SHRM cited Search Remotely Rural Remote Job Internet Access and Speed
Here is a video that is highly relevant for remote workers and job seekers job searching for remote work and opportunities to work from home. Search Remotely was recently interviewed by the Society of Human Resource Managers (SHRM). We discussed the importance of internet access and speed and key determinants when offered a remote job by remote first employers.
Most likely, your current Internet plan will allow you to work from home without too many interruptions because unless you live in a remote rural area, most providers already offer more than 25 Mbps for most of their plans. 
If you're shopping around for a new Internet service provider, you may be wondering whether the recommended download and upload speeds for the most common work from home apps.
Here's a quick list:
Zoom: 1.2 – 3 Mbps
Skype: 30 Kbps – 8 Mbps
Slack: 200 Kbps – 4 Mbps
As you can see, you don't need fabulous speeds to access some of the most common work from home apps. 
However, it's important to keep in mind that when you're working from home, you're sharing the Internet with your partner, kids, or roommate, which means that you will need more speed for everyone to remain connected and not fight for the bandwidth.
Here's what kind of minimum bandwidth you need to stream your favorite music or videos:
Spotify: 160 kbps
Apple Music: 256 kbps
YouTube Music: 256 kbps
YouTube: 2.5 Mbps
Netflix: 1.5 Mbps (medium)
Amazon Prime Video: 5 Mbps (HD)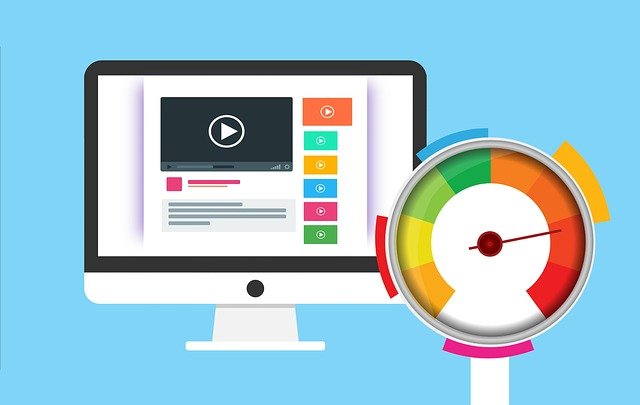 What is a good Internet speed for working from home?
A good Internet speed for working from home depends on your situation. For example, if it's just you working from home and you don't need to tackle projects that require you to upload large files, deliver graphic designs to clients, or attend live video conferences, you could do okay with a connection of at least 50 Mbps.
However, if your partner or roommate also works from home or you have children who want to play games on their console while you're working, you want to start adding more speed. And if you are a graphic designer, photographer, or YouTuber, or you need to hop on multiple video calls a day, you definitely want to look into faster speeds.
Download speeds of 100 Mbps should be enough for most families not only when you're working but also when it's time to relax. This sort of speed will allow you to stream the latest episodes from your favorite TV show while your partner is playing a game on the console and the kids are on their tablets. If you want to check out what your current download/upload internet speeds are currently you can use Speedtest by Ookla.
What is an excellent Internet speed for working from home?
If you have a family who loves to spend most of their time online and into smart home systems, you should look into downloading speeds of 200 Mbps and more. This is a good speed for larger households where all family members play online games, stream Netflix, or watch videos in 4K.
Still not sure about the best internet speed when working remotely?
Internet speed isn't the only area in which remote workers must consider. Taking first place is ensuring that internet connections are available and accessible. The accessibility of an internet connection is a primary considerations. In this case, speed or Mbps becomes second. In this regard, Whistleout completed a review of data plans offered by the top mobile and data communications providers. The author explained an ingenious way in which remote workers could combine their data plan, WiFi and mobile hotspot to extend internet connections thereby ensuring accessibility. Lauren Hannula of Whistleout also breaks down various options and makes recommendations based upon household budgets and data needs. You might want to check it out when you have a moment.
How do you increase your Wi-Fi speeds when you work from home?
No matter what Internet plan you have at home, there are multiple ways to increase Wi-Fi speeds without having to switch providers or upgrade to a more expensive plan.
Here's what you can do to make sure that your Wi-Fi connection is fast enough to handling working from home:
Check the placement of your router to make sure it's centrally located in the way from any obstacles in the room.
Make sure your router is updated to the latest firmware version.
Try to boost your Wi-Fi signal if you don't get the same speeds in all rooms of your house. You can easily do so by investing in a Wi-Fi extender so you can get quality signal in every corner of your home.
What is typically considered fast Internet in urban and rural areas?
The concept of fast Internet may be different from country to country, but generally, you would expect any connection over 25 Mbps for download and 3 Mbps for upload tool be defined as broadband Internet. 
The global average for broadband Internet is 93 Mbps for download and 52 Mbps for upload. The speeds are definitely faster in urban centers, while rural areas lag behind considerably in most countries.
For example, rural Internet speed averages were just 39.01 Mbps in the US in 2019. This means that many people living in areas with poor Internet might experience difficulties working from home. 
If you have a remote job position, you may be interested in these articles:
Fiber optic Internet is becoming more and more popular in many countries. Still, the infrastructure is often too expensive to deploy in rural areas, so most residents are currently limited to satellite Internet, which is often unstable.
The minimum Internet connection that allows you to work from home without any difficulties should be at least 25 Mbps for download and 3 Mbps for upload. The rule of thumb is to add another 10 Mbps download and 1 Mbps upload for every additional person in your household. This way, you can be sure that you can perform your work from home tasks without issues.
Rural internet accessibility and speed important for lawmakers
As more remote workers are migrating from urban areas to rural, bucolic country sides and small towns, rural internet accessibility is becoming more important. In 2021, at the height of the migration of professional remote workers to more rural areas, the Infrastructure Investment and Jobs Act (IIJA) was passed by legislators giving almost $50 billion to states and localities to improve broadband access. You can read more about it here. This Act may not solve the problem of inaccessibility and slower internet speeds in rural areas of the US. The government is already receiving complaints that the methodology and definitions that determine who is under-served and who is not is faulty. Nexttv has reported extensively on this top, additional details may be found here.
Search Remotely is an online marketplace that enables both existing and aspiring remote workers to up-skill and find remote jobs from the comfort of their homes. Employers across the globe tap into our existing community and utilize our team of internal recruiters to place world-class remote talent into their teams.