In our sixth episode of Day In The Life of A Remote Worker, joining us are freelancers and content media agency owners, Martin and Steph Wanless.
They are true masterminds with content writing and have worked for and collaborated with some of the largest household brands in Australia.  Currently they are the owners of their own content agency called By Wanless.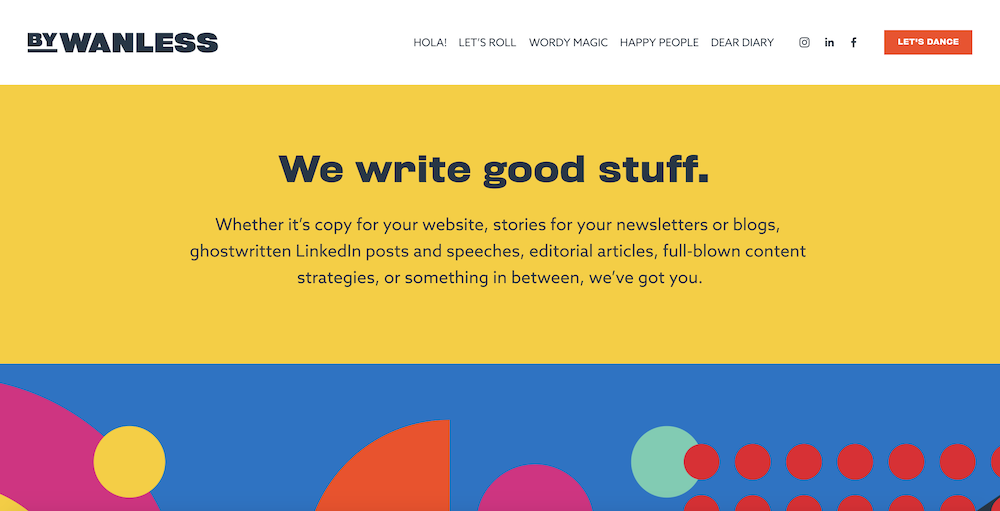 Tell me about yourself and what it is that you do?
Martin is a born and bred Brit who's been working in content and communications in both the UK and Australia for almost 20 years. He firmly believes every business, regardless of size, should have a world-class content strategy to help them tell their story and achieve business goals. Before the birth of By Wanless, Martin was head of content at Mahlab, one of Australia's premier content agencies, where he helped launch stellar – and in some cases international multi-award winning – content projects for many brands including Direct Advice for Dads for HBF, HRM Online for Australian HR Institute, Create for Engineers Australia, and Empowered for CommSec. Before that, he was in England creating content marketing publications to support some of the UK's biggest trade fashion events, and he more recently spent a year reimagining professional sports content in Australia for the Newcastle Knights.

Steph's a true blue Aussie, born and bred in regional NSW, who's worked in the Australian media, communications and content sector for close to 15 years now. In that time she's clocked up experience with a variety of brands including Fairfax Digital, Mars, KitchenAid, IOOF, NIBA (National Insurance Brokers Association), SEEK, Women's Fitness Magazine, Perth Airport, Travellers Choice and Commonwealth Bank, as well as some of the country's top agencies. A natural storyteller with enviable curiosity and an unwavering commitment to deadlines and grammar, Steph strategically crafts tight, concise, compelling copy to grab attention and tell brand stories with purpose.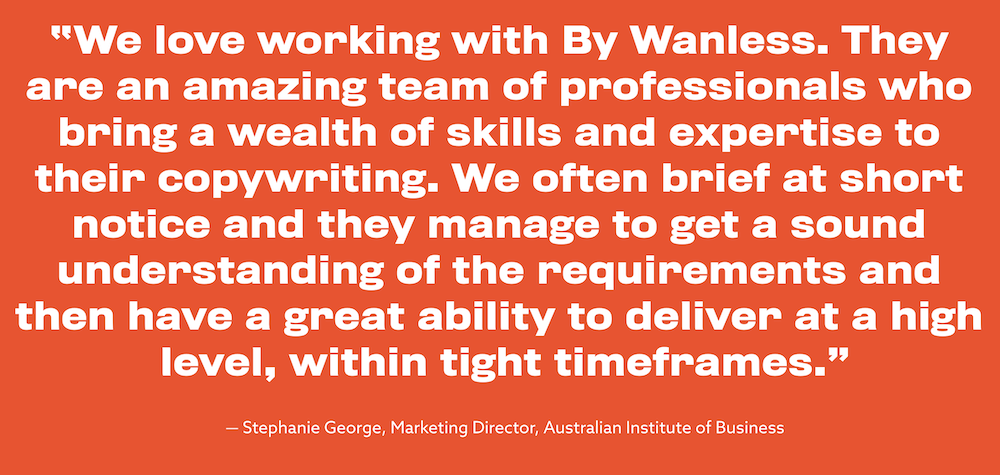 When did you start working remotely and how did that come about?
We met while working at Mahlab in 2010 and had our first child, Ted, in August 2013. Steph intended to take 12 months off, but ended up freelancing from the time Ted was three months old… mainly to stop her going insane! At the end of the 12 months we decided it was more financially viable if Steph stayed working freelance (under the business name Words By Wanless) while caring for Ted – her salary at the time would have barely covered the cost of full-time daycare in Sydney.

We then married in September 2014 and moved to Newcastle two weeks later. At this time Martin was still working / commuting to Sydney while Steph continued to freelance from home and we secured a 2-3 days / week daycare for Ted. We welcomed our second child, Ella, in January 2017, so Steph's business was put on hold again for a few months. But by mid-2017 Martin secured work with Wests Group / Newcastle Knights and we happily found ourselves living together full-time again.

By 2018 Steph's freelance business was starting to pick up and we were sharing work / expertise on a project by project basis. Martin had wanted to branch out on his own for a while by this point and finally took the leap in July 2018… not a decision we took lightly given we had a mortgage and two young humans to feed. He originally started a separate business (Spiky Duck), but it quickly became obvious that it would be smarter for us to join forces, rebrand and present ourselves as a freelance content agency. We officially began working together under the By Wanless name in January 2020 and launched our rebrand this week (20 May 2020 – www.bywanless.com.au)

We wanted to both work remotely to give us the flexibility to not only look after our kids well, but to have flexibility in where we lived. Working remotely has enabled us to relocate and buy our long-term home.
What would go down as the biggest achievement so far and what makes you so proud of this?
Steph: I think navigating the impact of COVID-19 (having the two kids at home full-time, and home-schooling), while keeping our business afloat and launching our new branding was pretty remarkable. I'm also just proud of us for successfully operating a business together as husband and wife – it's not something we ever expected or even really planned to do, but we manage to balance it pretty well and still like each other at the end of every day, so that's a big win.

Martin: Firstly, I think starting businesses that have lasted a while. It's easy to think 'working for ourselves, that'd be cool!' but as with anything worth doing it's an awful lot of work, and it'd can be quite lonely at times too – but of course we're fortunate to have each other! We've quickly had to learn to do all aspects of running a business – finances and business development were never my forte, but I've learned to enjoy them as much as any other part of what we do – maybe more in fact, as I get a lot of pleasure from learning something new! The benefit of working for ourselves was evident during the early days of COVID. Yes, our income's been affected and yes we had some clients slow down or stop work altogether, but others kept with it. We were much more in control than a lot of other people. Some of my colleagues from previous roles had been stood down without warning and without pay, and were forced to sign on the dole. I had phone conversations with a few of them and they were desperately upset and felt like a commodity rather than a person. I never want to experience that, and I'm proud that what we have done has given us more control over our world, rather than be at the mercy of others.
Do you have any favourite cafes, places or coworking spaces that you like to work remotely from when not at home and why are these your favourite?
We actually rarely work from cafes, aside from hosting face-to-face meetings. One of our favourites though is Goldfish Bowl cafe in Armidale – great coffee and brilliant home-baked pastries and sourdough. As far as co-working spaces goes, we've never had the opportunity as one doesn't currently exist in Armidale. We have met our business coach at Dpartmnt in Tamworth which is a great new space, boasting individual offices, meeting rooms and a share kitchen / facilities.
How do you want to improve yourself in the next year?
Steph: I want to establish a killer social media presence and following, build on our existing client base and ideally secure some new clients on retainer.

Martin: I strive to continually improve myself and our business, whether it's learning new skills or trying something new. The next 12 months are critical for us in terms of the business 'growing up'. We've set ourselves targets on the amount of new business we want to get in, how we want to grow with current clients, and are currently surrounding ourselves with the right people and resources to help us do that.
What does a typical workday look like for you and how do you manage your time and schedule effectively?
Ted is in year one so we usually drop him at school by 8.30am and Ella will be starting up daycare again in a couple of weeks – she's there Monday, Tuesday, Wednesday. Steph tries to exercise first thing in the morning and then we both aim to sit down to work by 9am. Martin breaks his day with exercise at lunch time and before we know it it's 2.30-3pm, time for the school run again. Depending on what we have on that day, we take turns working post-school pick-up, so there's always one of us working to around 5.30pm while the other organises the kids dinner / bath etc. Some days it works really well, other times the schedule goes out the window but we do find scheduling time for regular exercise helps us to stay focused.
Do you have any recommendations for software or tools which are invaluable to you as a digital nomad and how do they help you to stay productive?
We operate everything on Google Drive. Steph's a naturally organised person. Martin is, but only in his own head. He's not visibly organised, which drives Steph crazy. We also use Harvest, which is a god send for managing not only our invoicing but also being able to analyse which jobs are profitable and which are time drains.
We've tried all sorts of software to help us manage our actual work – Trello, Monday and Click Up over the past year – but nothing's really stuck. So we're back to the whiteboard.
If you could give one bit of advice to anybody out there that is dreaming about working remotely what would that be?
Just do it. Take the leap. We did it with two kids under the age of five and a whopping big mortgage. Was it scary? Of course. But if you never try, you'll never know what you're really capable of and where the business could take you. These days, we wouldn't swap it for the world. We love being in control of our own brand and the flexibility it's offered us, especially with young children, is a huge bonus.

Massive thanks goes out to both Martin and Steph for their contribution to this interview and for helping out other aspiring remote workers and freelancers in taking the leap.

For anyone that wants to follow them and their content journey, take a look at the By Wanless website for more information.


If you found encouragement and the remote work experience of Martin Steph Wanless inspirational as you pursue remote work or a business idea, take a look at some of the articles in the Search Remotely Series: A Day in the Life of a Remote Worker. See below.
A day in the life of a remote worker