Mexico City has become a hot pick for thousands of digital nomads as it offers a relaxed urban environment and lots of options to help you power through your workday.
The Mexican capital has dozens of cowering spaces that range from hot desking to dedicated workspaces, so you get is and find the best space that suits your needs. Coworking spaces are sprinkled throughout the city so you can find one in your favourite area and enjoy the amazing nightlife when you're done working.
Here are the top five coworking spaces in Mexico City that work best for freelancers, entrepreneurs, remote workers and digital nomads.


Since we written this original article in 2021, we have since updated it to include more than five exceptional coworking spaces in Mexico City. Please see the originals and the new additions below.

Centraal
This hip coworking space situated in downtown Mexico City offers a sleek, modern design, with a range of both shared and private workspaces. As well as meeting rooms ideal for meeting with clients or hosting your next workshop event.
AS well as the many indoor communal work stations. There is an outdoor terrace area with water feature and many tables where you can either smoke, get some work done or relax under the shade of the leafy trees overhead.
Community is a big focus at Centraal, with a monthly calendar available on their site that is often filled with seminars, workshops and various meetups that members can get involved with.
With its modern style, great sense of community and regularly hosted events Centraal attracts a broad range of both local and international freelancers, entrepreneurs and online professionals.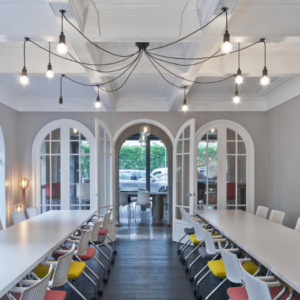 El 3er Espacio
One of the oldest coworking spaces in Mexico City, El 3er Espacio is located in the fancy neighbourhood of Hipodromo and provides workers with beautifully designed, spacious offices with lots of natural light. The huge working area is scattered with tables that can accommodate up to four people, providing you with a great place to work and excellent networking opportunities.
The terrace is a great place to relax when you're taking a break, and it offers beautiful views over Parque Mexico. If you want to give this coworking space a try, you can get one day for free with no strings attached. 
El 3er Espacio is located a stone throws away from Condesa, so you'll be around lots of phenomenal flood options ranging from vegan fare to the most amazing taco stands. The annual membership starts from 500 pesos plus the cost of the monthly pass starting from 1607 pesos, and you can enjoy daily rates of 250 pesos.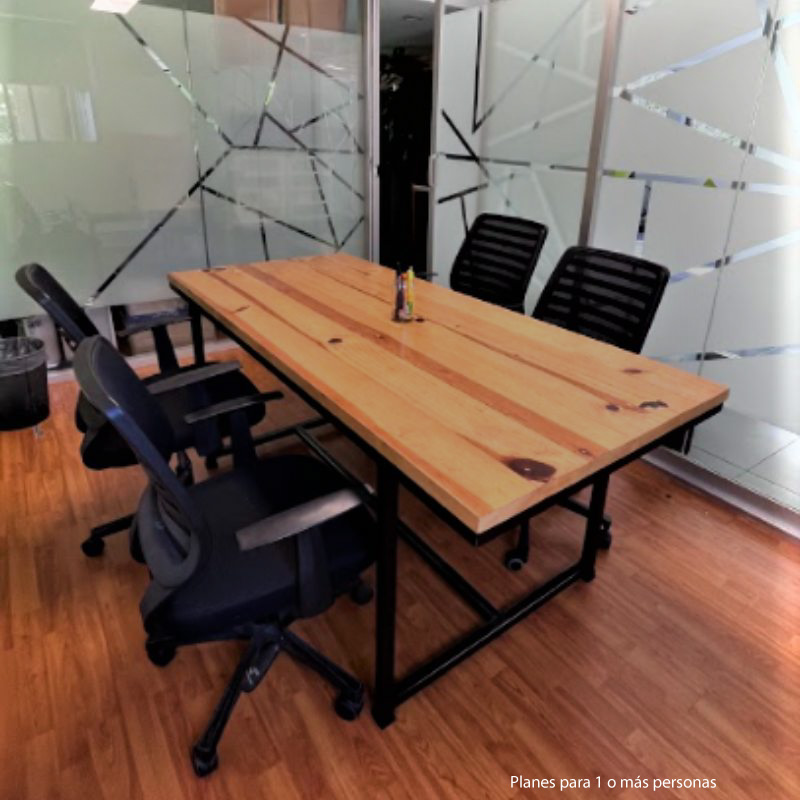 Impact Hub
Part of a network of 86 coworking locations spread across five continents, Impact Hub Mexico City offers a selection of working areas ranging from rooms suitable for 6 to 13 people to open spaces with long tables that can accommodate up to 10 workers eight. If you feel that sitting at the table is not the best option for you, you can use one of the many bean chairs or hammocks spread across the rooms instead.
Besides building a community of remote workers and making it easy for everyone to network and socialise, Impact Hub also organises a wide range of events. It also offers discounts for classes at the local university if you want to boost your skills.
Three coffees available on the premises, and there are lots of street food stands around the coworking space, where you can enjoy everything from tacos to tamales. Monthly costs start at 2,900 pesos.


Homework
One of the coworking spaces located right in the heart of the Mexican capital, Homework offers a large open floor space with large windows and lots of natural light. The space is filled with long tables and a variety of well-arranged desks, and you can also enjoy working in some comfortable loungers.
This is the place where many of Mexico City's early-stage startups operate, and you shouldn't be surprised if you find yourself in the midst of a launch party from time to time. Homework is one of the best coworking places for those interested in networking and rubbing shoulders with some of the most innovative entrepreneurs in town.
Homework provides all members with free coffee and a number of other drinks and snack options. The monthly pass cost starts at 2,500 pesos for the full time option and goes up to 9,200 if you want to have your own office.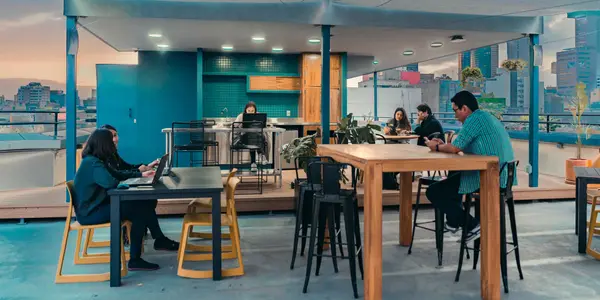 Urban Station- Polanco
A minimalist coworking space with a well-thought design, Urban Station offers a space divided into multiple working spots ranging from common desks to individual tables. Private offices are also available, and all members get access to ultrafast fibre Internet.
This coworking space is located on a busy street in the Polanco neighbourhood, so you should expect to hear some of the city's noise, which is definitely part of its charm. Free drinks are available for all members, and catering is also available on the premises. The location of the coworking space makes it easy to find something delicious to eat in walking range.
Prices start from 55 pesos per hour, and monthly passes are available from 3,380 pesos. Some additional services at Urban Station include access to meeting rooms, access to a beautiful terrace that can also be reserved for meetings, and private offices.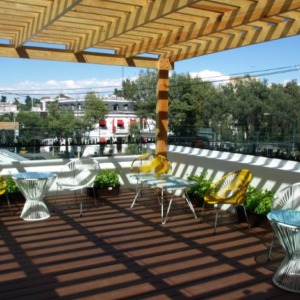 Public Muzquiz
PUBLIC Muzquiz 15 coworking space in Mexico provides members with a choice of coworking desks and private offices, with a total capacity of 50 people.
Additionally, you can enjoy an outdoor work area with spectacular views over the city. PUBLIC Muzquiz 15 is part of a network of coworking spaces in Mexico City.
The Pool
With three locations spread across Mexico City, The Pool offers large, well-lit open spaces that provide options for coworking and private offices alike. You can even use this coworking space as a fixed space for your team.
The Pool Polanco has a slick design and is located in a more upscale neighbourhood where you can find a wide variety of eating and drinking options, some of them on the pricier side. A cafe is available on the premises so you can easily get your caffeine fix.
Prices start from 1,680 pesos for 80 hours and go to 3,370 for a monthly pass that you can use in either of the three locations across town. Additional services such as access to meeting rooms and private offices are available for an extra cost.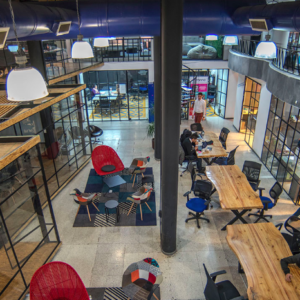 Selina Cowork Downtown CDMX
Selina Cowork Downtown CDMX coworking space in Mexico offers flexible workspace solutions in the heart of Mexico City.
The coworking space can accommodate up to 50 people, who can choose between shared desk and private offices.


Search Remotely is an online platform that facilitates remote workers to be able to learn remote work skills, find work from home jobs and book some of the best coworking spaces across the world.