In our fifth episode of Day In The Life of A Remote Worker, joining us is a digital nomad, travel blogger and a creator of all things digital. Introducing Joshua Biggers, an individual who has travelled so far to an impressive 109 countries around the world whilst working remotely.
Joshua Biggers has been travel blogging his way through the world and is a legitimate digital nomad. Currently he is the founder of BiggersWorld brand and he is running a website called Tired Of Working.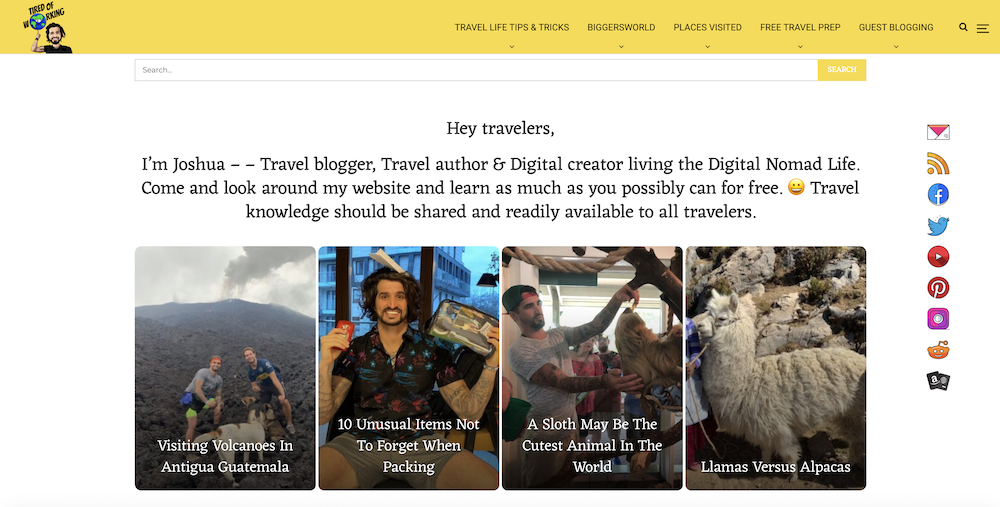 Tell me about yourself and what it is that you do?
After leaving the military I decided I never again wanted someone to control my work schedule. I had no idea how I was going to accomplish this goal but I had some ideas. I bought a 1-way ticket to Bangkok and began to figure it out as I went. Since then I have created the BiggersWorld brand and TiredOfWorking.com and began to spread travel knowledge in every way I could. I've written 4 books and written more blogs then I could count. Traveling is not just a hobby it is a lifestyle.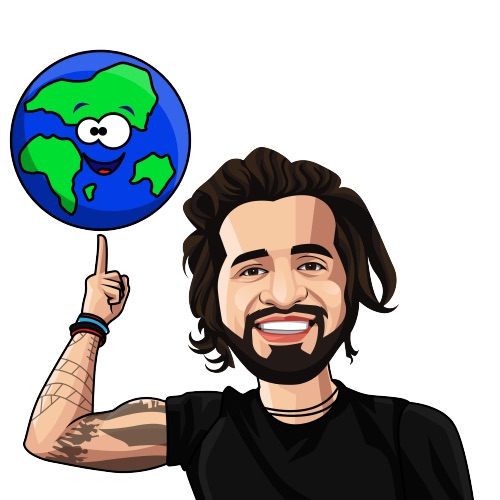 When did you start working remotely as a digital nomad and how did that come about?
The year 2017 was when I began traveling the world. After leaving the military in 2015 I went and got my MBA thinking that was my next move but after I graduated I still had people trying to control my schedule. The first year was the toughest and I spent months living in bunk beds listening to drunk backpackers party all night. After some time I started realizing how to make money while traveling. It was all about building a brand. That's what I've been doing while traveling the world over the past 21/2 years.
What would go down as the biggest achievement so far and what makes you so proud of this?
Writing your first book and receiving your very first royalty check is rather awesome. My brand BiggersWorld main goal is to educate as many people as possible about traveling the world. It's possible for anyone to travel they just need to be shown how.
Do you have any favourite cafes, places or coworking spaces that you like to work remotely from when not at home and why are these your favourite?
Haha, this is a funny one but I have defiantly worked out of more KFC restaurants than any cafe. I don't know why but maybe it's because I love their mash potatoes.
How do you want to improve yourself in the next year?
This has been a very tough year for all of the traveling world. However, I'm using it as a year of building. I'm completely redesigning my website and so far the journey has been intense but I'm seeing that light so I'm going to keep pushing forward. The website is the big goal for this year.
What does a typical workday look like for you and how do you manage your time and schedule effectively?
This is not going to sound flattering to many people and it could push them away from the digital nomad lifestyle. This lifestyle is not easy. I know the pictures and videos and everything make it seems amazing, and does have its incredible moments. However in times like right now I'm waking up at 8am and I work all day. I take breaks here and there but my computer does not shut off until midnight a majority of the nights. As I'm typing this it's 10pm and I have worked inside all day. At least 9-10 hours behind the computer. I will say that the incredible moments defiantly make it worth it.
Do you have any recommendations for software or tools which are invaluable to you as a digital nomad and how do they help you to stay productive?
You have to learn WordPress inside and out. I use WordPress hours a day and learn something new everyday. Understanding how WordPress works is a tool that can't be over looked. Another invaluable tool is my Apple Watch. I use reminders like crazy. Over ten a day to keep me on track.
If you could give one bit of advice to anybody out there that is dreaming about working remotely what would that be?
Start now! Stop finding reasons why you can't. Having a busy life is becoming the norm for most people but we all can find 20-30 mins a day that we could use to start writing a book, designing a website, blogging, etc. It's easy to find excuses and I catch myself doing it from time to time. Your time is now so start it.

P.S. I have a reminder that goes off daily at 4 pm telling me to stop being lazy haha. I just leave it just in case it catches me.

This interview has been a delight and a huge thanks to Joshua for working with us on this and helping out other aspiring remote workers and digital nomads out there. Keep smashing it!

For anyone that wants to follow Joshua and his journey, head on over to his website Tired Of Working.

If you found encouragement and the remote work experience of Joshua Biggers inspirational as you pursue remote work or a business idea, take a look at some of the articles in the Search Remotely Series: A Day in the Life of a Remote Worker. See below.
A day in the life of a remote worker