Barcelona has become one of the most popular hotspots for digital nomads and remote workers in Europe, not just because it's a truly modern city but also because it has an amazing sunny climate all year round.
This is a city that has a unique artistic vibe that blends perfectly with beautiful beaches and amazing nightlife. It's one of the melting pots of cultures in Europe, and over the past couple of years, Barcelona has seen an immense growth in coworking spaces.
Whether you are a digital nomad, freelancer, or you're getting ready to launch your start-up, here are the top five coworking spaces in Barcelona where you can find the perfect working space and network with other like-minded individuals.


Since the time that we wrote the original article presenting the Top 5 Coworking Spaces in Barcelona, Spain, we have since added more coworking spaces to our list. We hope you enjoy!
1. Marina Port Vell
Voted by Forbes as one of the most unique coworking spaces in the world. Marina Port Vell sits on Barcelona's harbour. With a selection of private offices, hot desk options or private desks that look out across spectacular views of the harbour, the choice is yours. OneCoWork Marina Port Vell comes with an optional gym membership add on, exclusive OneCoWork member events and perks and lunch plans available too.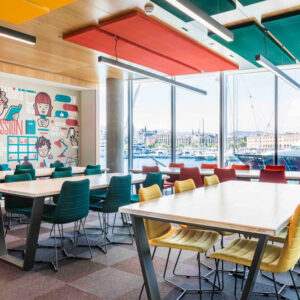 2. Betahaus
Betahaus is one of the top coworking spaces in Barcelona that is open 24/7 and provides an amazing environment for people in all industries. There are almost daily events available here so you can be sure you're always ahead of the curve.
This is a flexible home where professionals, including freelancers, businesses, and entrepreneurs, can get stuff done. The memberships are flexible and affordable. Everyone gets 24/7 access to a wide range of facilities, including ergonomic chairs, a meditation, yoga studio, Skype room, and even high-speed Wi-Fi board games.
The workspace at Betahaus is divided into six floors and five terraces, and you can choose to get a spot at the hot desk and mingle with other professionals or opt for a private office if you are interested in a more private workspace instead.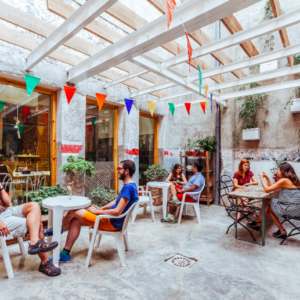 3. Cloudwords Sagrada Familia
This coworking space is one of the best places in town if you're interested in networking. It's also incredibly close to Barcelona's most famous attraction, La Sagrada Familia. Spread over six floors, Cloudworks Sagrada Familia has lots of space to suit the needs of just about any type of professional individual or business.
One of the main attractions of this coworking space is the beautiful terrace that overlooks the Sagrada Familia. This is a place that hosts regular events such as networking sessions, talks, company parties, and even concerts.
There are multiple plans available, ranging from flexible hot desk memberships to private offices. Multiple meeting rooms are available, and you can reserve them via an app, and facilities include high-speed Internet, phone booths, and fully equipped kitchens with freshly ground coffee and tea included at no extra charge.


4. Blitz Coworking
Blitz Coworking coworking space in Spain is located within walking distance from La Sagrada Familia and welcomes remote workers with fully equipped indoor and outdoor areas.
There are two terraces available so you can take the sun in while working, as well as a lounge area and free coffee and drinking water throughout the day.
5. La Vaca Coworking
Offering a bright workspace with plenty of natural light, comfortable seats, spacious desks and meeting rooms, La Vaca is a former dairy turned into a modern coworking space in the hip district of Poble Sec.
There are six member plans to choose from so you can get the one that really suits your needs. The resident plan gives you a spacious deck and a comfortable seat that all yours, whereas the flex plan is perfect for those who are happy to sit anywhere while still enjoying perks such as personal lockers and receptionist services. Daily passes are also available for digital nomads who just want to be able to sit anywhere and get some work done without any commitments.
A kitchen with a self-service cafeteria is open to all members and is ideal for getting some free coffee and networking with other coworkers. You can also find lots of entertainment and relaxing opportunities in the basement, including a pool table, ping-pong and even a gaming console.

6. Cahoot Coworking
Cahoot Coworking  provides a nice coworking space in Spain that  is the perfect place for those who want to enjoy lots of natural light and a working environment with an urban flair.
Located close to a metro station and on the route of the airport bus, Cahoot Coworking space has a 50-person capacity and offers flexible plans that start from just one day.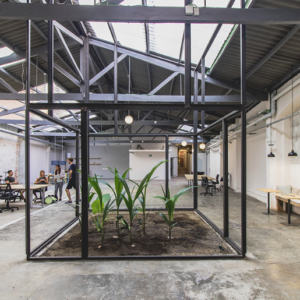 7. CREC
Also located in Poble Sec, CREC is a large coworking space with an inspiring environment that allows you to focus on your projects while also getting the opportunity to network with people in your industry and beyond. There are multiple plans available to give you the flexibility you need when it comes to renting a coworking space.
With space for more than 300 professionals, CREC offers a wide range of facilities that include fast-speed Internet, Skype rooms, quiet spaces, a photography studio, and integration in a virtual community.
CREC memberships allow you to pay only for what you need, with prices starting from €185 for a flexible space and going up to €400 for a fixed space for up to four people and 15 hours of meeting room access per month.


8. Apocapoc BCN
If you would like to work in an eco-environment-friendly space, Apocapoc is the right place for you. This is a coworking space that is spread over a surface of 200 m² and offers multifunctional elements that help you optimize your work. One of the best features here is the outdoor heaven with a roof garden and fruit trees that you can use to work or network with some of your other coworkers.
You can choose from multiple membership plans, with some of them being only available for sustainable projects and professionals. The Stronger Together plan starts from €47 per month and includes access to a hot desk area. If you're interested in getting a fixed desk in a shared room, the Keyholder plan is the right choice for you. Besides getting a comfortable spot that's yours for the month, you also get access to a wide range of amenities and facilities. These include mail and packages handling, credits for meeting room use, Skype booths, access to a kitchenette with free tea and coffee and unlimited use of the terraces and chillout spaces.
Multiple plans are also available for organizations, and you can pick from
memberships that include between four and 16 members.
9. Aticco Urquinaona
Aticco Urquinaona coworking space in Spain offers modern solutions for freelancers and entrepreneurs in the heart of Barcelona. The coworking space is located in a 1000 square meter penthouse overlooking the whole city.
Besides providing a selection of open plan and private offices, Aticco Urquinaona also offers marketing, accounting and human resources services.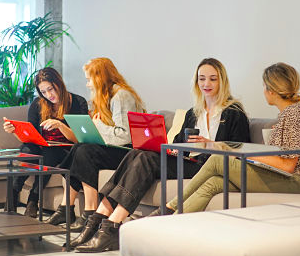 10. Eclektic Space 
Eclektic Space is a coworking based in the district of Poblenou, one of the most charming and local areas of Barcelona, located between the beach and the 22@ (trade center of Barcelona).
More than 220 sqm for only 16 coworkers, it created the best environment to enjoy working. An enormous terrace of more than 100 sqm (fully furnished) is the best part of that space. 2 bathrooms, an office, printing area, a chill out area, locker for everybody and a meeting room.
Barcelona is quickly becoming the digital nomad capital of Western Europe, which means that there are plenty of coworking spaces to choose from. The unique vibe of the city makes it perfect for living the remote working dream.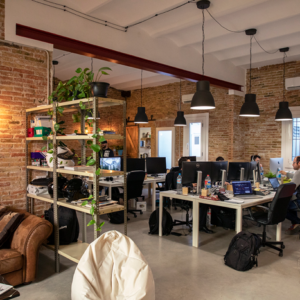 Search Remotely is leading the way in the future of work. We are in partnership with hundreds of coworking spaces around the world to offer you the ability to book their spaces directly on our platform.