Few places in the world have so many coworking spaces for remote workers and entrepreneurs as the Big Apple. In New York, you can find everything from small, hip places that are open 24/7 to luxurious coworking places with all the facilities and amenities you can imagine.
If you're a remote worker, freelancer, or entrepreneur looking for a place to work from in New York and socialize with like-minded individuals, have a look at the top 5 coworking spaces in New York.


We've updated the original article to include additions to our Top Five List of Coworking Spaces in NYC. We are sure you will agree.
Village One
Voted as one of NYC's best coworking spaces, VillageOne Space is a Soho coworking space designed for creativity. We seek to expand the realms of possibility and imagination. While promoting individuality and artistic expression, we hope that diversity, beauty, and collaboration can co-exist harmoniously. We've designed an environment where guests feel valued and inspired.
 The Farm Soho
With an open loft design and a strong community of entrepreneurs, freelancers, and remote employees, The Farm Soho welcomes individuals who want to work in a dynamic environment.
This coworking space is recreated from a century-old barn that was brought piece by piece from New York from the farmlands of Southern Missouri. You can opt for day passes or get a dedicated desk for complete privacy. The Farm Soho offers several membership options, with something for every need, whether short or long term.
The Farm Soho is open 24/7 and offers facilities such as phone booths conference rooms, mailbox and address service, and ongoing customer service. All members get unlimited coffee and tea as well as keyless secure access.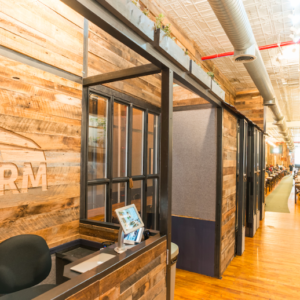 Voyager HQ
With a focus on travel industry workers, Voyager HQ is home to dozens of start-ups and offers incredible networking opportunities. You can choose one of the 50 dedicated desks or opt for a private office. Lots of events are happening here, from happy hour to travel founder breakfasts and roundtable discussions.
All members get access to unlimited coffee, printing access and fast Wi-Fi. Monthly passes for dedicated desks start from $249 and you can also get a clubhouse membership for $799. This includes multiple perks such as 24/7 access, personal locker, and physical mailing address. Also included are 12 hours of private meeting hours per month and first access to corporate and investor partners.
If you're only in New York for a day, Voyager HQ offers day passes starting from $25, which give you access to a hot desk for the entire day. You also get up to 1 hour of private meeting room access and access to all office amenities including printers, coffee, and fast Wi-Fi.


Serendipity Labs
Serendipity Labs coworking space in New York is located in the heart of the financial district and offers easy access to loads of entertainment, retail, and dining facilities.
You can choose from short or long-term workspaces and get access to a wide range of facilities, including standing desks, ergonomic chairs, and kitchen access.
Spark Labs
Located right in the heart of Union Square, Spark Labs is part of the larges ecosystem of international start-ups in the city. It's also one of the oldest coworking spaces in the city, launched back in 20112, and has another branch near Bryant Park.
Spark Labs is home to a colourful and vibrant community of tech companies. This is one of the best options in town if you're looking for flexible terms and global access at the same time. Spark Labs has a partnership with Upflex that allows you to access over 3,000 safe spaces across the world.
You can choose from several flexible month-to-month passes and day passes are available, too. The Spark Virtual package starts from $47 and provides you with a business address in New York City, concierge service, and mail service. It's a good choice for business travellers and remote teams, as well as for start-ups that are expanding to the US.
If you're looking for a coworking space with more perks, the Part Time Desk and Dedicated Desk plans offer you access to a hot desk a couple of days a week or every day. If you need a permanent office and privacy, private offices are available starting from $3,500 per month.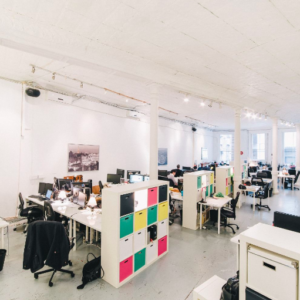 NeueHouse
One of the best coworking spaces in New York for creatives, NeueHouse is home to a collective of people from a wide range of artistic professions, including fine arts, architecture, filmmaking, fashion and design. Conveniently located in Madison Square Park, NeueHouse has lots of amenities intended for artists, including access to a variety of art exhibitions and cultural programming.
As a member, you also enjoy a multitude of perks like food and beverage counters, artisan roasted coffee, Happy Hour, Linus bikes, noise-cancelling headphones and much more.
Monthly fees start from $150 for a hot desk in the communal workspace and go up to $4,500 for a private studio. Members get discounts at a variety of hotels and clubs across the world and access to state of the art technology for virtual productions and live streams.


Primary
A true oasis in the heart of New York City where you can get super productive and enjoy fitness, yoga and meditation sessions on your breaks, Primary was launched in 2012 and has become one of the most popular coworking spaces in the city.
You can choose from multiple memberships, starting with day passes from $30. You can get a day pass for both coworking and private offices, which provides you with access to private phone booths, unlimited printing and scanning, and one free studio class.
If you want 24/7 access and lots of flexibility, the Glow Coworking Membership offers reception and concierge services, conference rooms, weekly events, and unlimited studio classes. You can choose a desk in the communal lounge spaces from $300/month.
Private offices are also available, and they include all the facilities and amenities you may ned to boost your productivity, plus privacy. Included are 24/7 office access, mail handling, direct ethernet internet connection, and a bundle of monthly conference room hours. Prices start from $550 per month and you can choose from monthly rolling contracts or 6 or 12-month commitments.


The Yard
The Yard: Lower East Side coworking space in New York is uniquely situated on a rooftop and includes a selection of private and house offices while also delivering a beautiful common space.
All working spaces have views of the Williamsburg Bridge and Delancey Street, and the co-working space offers multiple conference rooms and an in-house café.


Search Remotely is leading the way for the remote work revolution. We enable those who work remotely to be able to book coworking spaces from all over the world.