Over the last decade, Bali has seen a huge boost in tourism attracted to their wonderful culture, more and more digital nomads are flocking to Bali, Indonesia in search of an exciting place where can they can escape from the mundane and have an office by or even on the beach.
As a result, coworking spaces are popping up everywhere in Bali, and they are insanely popular among remote workers these days. They offer flexible hours and times for renting desk spaces and offices, while also providing excellent networking opportunities for digital nomads.
Finding the best coworking spaces here is not very easy, simply because there are so many to choose from, so here is a list of the top five coworking spaces in Bali where you can find that perfect balance between work and fun.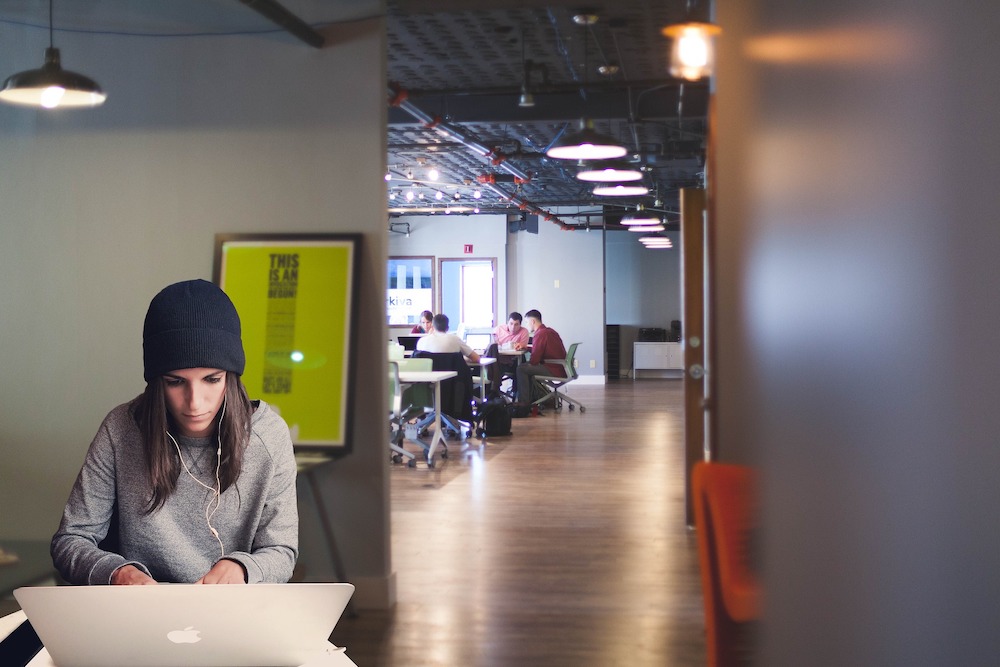 Livit Hub Bali
Livit Hub is one of the best places to rent a desk or office as a digital nomad in Bali, mostly because it offers an exotic scenery in the Gianyar area, so you can work in a paradisiac environment. Livit Hub offers a wide range of bespoke services that allow remote workers to build high-performance similar themes and sustainable businesses while also allowing them to connect to like-minded individuals and expand your horizons.
This is an innovative and dynamic workplace that can fit up to 100 persons comfortably, offering a selection of ergonomic chairs, beanbags, standing tables, hammocks, and over 70 power outlets so you can find the exact right spot to get your creative juices flowing.
Some of the facilities that you can enjoy when booking your desk space at Livit Hub Bali include a kitchen with everything you need to prepare your own nutritious lunches, a podcasting room and a Skype room, personal lockers and showers and an outdoor terrace. There are lots of cool things to do to relax too, with a ping pong table, board games, and even an yoga studio in sight.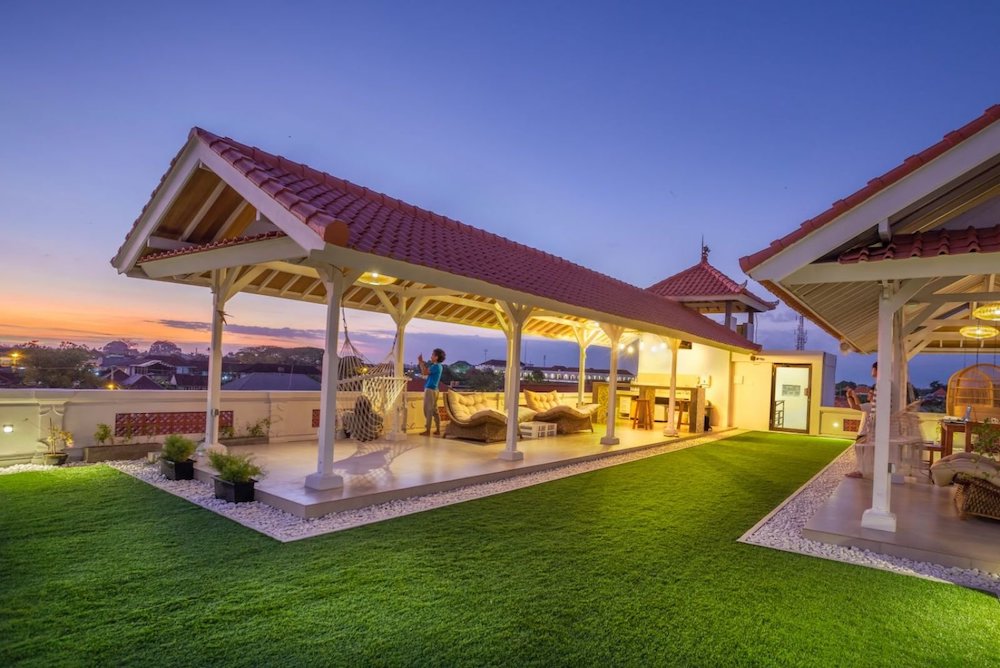 Outpost Ubud
A coworking hub with stunning views and light-filled rooms, Outpost Ubud makes it easy to set up shop in a large focus room with air conditioning. Alternatively, you can skip the indoor setting and work away on the balcony, where you can enjoy some amazing views. This is not just a coworking hub, but also a place where you can live, and the chic villas offer everything you need for a productive, yet relaxing stay in Ubud.
The coworking space has both sitting and standing desks and there are multiple meeting rooms available so you can collaborate on projects with your team. Skype booths make it easy to communicate with distributed teams, ad private offices and rooms make it possible to focus when you have a deadline looming. Some of the amenities that you can enjoy as a member of Outpost Ubud include access to a swimming pool, an on-site café, printer and scanner and lockers to keep your possessions safe. You can choose from multiple membership options, which include plans for cowork only or colive and cowork. Options range from Lite Passes that include 25 hours of access to the coworking facilities to Unlimited Passes of up to 12 weeks that include both a homespace and workspace.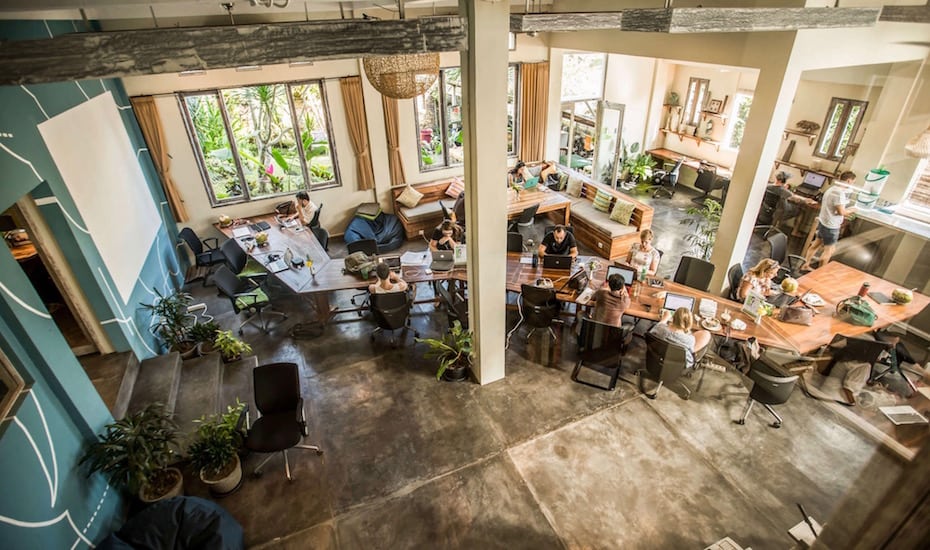 Tropical Nomad Coworking Space
One of the newer coworking spaces in Bali, Tropical Nomad is located the heart of Canggu, allowing you to work close to everything Bali has to offer. This is a place with exceptional views that is located in an oasis of calm and digital nomads can enjoy a relaxed and friendly atmosphere.
This coworking space is an excellent choice for those who want a modern environment while also being close to a wide range of restaurants and cafes that are all within walking distance. Tropical Nomad offers lots of flexibility when it comes to passes, and you can choose from daily to monthly passes. All passes offer unlimited access to the on-site facilities, which include a lounge area, beanbags, personal lockers, Skype Room, and bike parking.


Dojo
Another place that's full of serenity and puts you in close proximity to the beach, Dojo is the ideal coworking space for those who believe in work-life balance. The super relaxed atmosphere makes it easy to be highly productive. Dojo is a place where you can easily mingle and network with other entrepreneurs and digital nomads.
There's excellent Wi-Fi at Dojo, and you can also check out a multitude of events, workshops and talks that take place every week. You can choose to get a coworking pass only or go for coliving and coworking packs that include unlimited coworking, accommodation, airport pickup and even surf and yoga lessons.
If you get hungry while working you can enjoy something from the extensive menu at the on-site café, or even treat yourself with a healthy smoothie from the smoothie shack. All packages include a variety of perks such as printing up to 30 pages, IT support, mailing address, up to 16 hours of Skype Booth and access to all events.



Genius Café
The only coworking space in Bali where you can work with your feet in the sand while enjoying amazing views of the ocean, The Genius Café is also perfect for networking and making meaningful connections with other entrepreneurs and digital nomads. If you become a member, you can also enjoy multiple discounts with various local partners.
As a member, you get access to all Genius Café beach clubs and resorts and a permanent 20% discount on all food and beverages. There's also high-speed access and free access to all events included in the membership. Multiple membership packages are available for extra flexibility, and some of them include a donation to support education for under-privileged kids around the world.