As one of the largest cities in the word and the centre of the ever-growing tech and design industries in Japan, Tokyo is home to numerous unique, cutting-edge co-working spaces. There is an abundance of coworking spaces within the city, but for this article, we will discuss the top 5 coworking spaces in Tokyo.
The co-working scene in Tokyo has been exploding in recent years as the city has become more and more popular with entrepreneurs and tech startups. The city is bursting with opportunity, which made international companies set up their headquarters here in order to take advantage of Tokyo's strategic location.
Approximately 75% of international businesses that choose to expand their operations in Japan choose Tokyo, attracted by its strategic location and access to investors.
But the city is also home to freelancers, entrepreneurs, and creatives, and many of them are working out of the many co-working spaces in the city a. If you are looking to join a vibrant community of professionals in Tokyo, here are some of the best places to do so.


We've updated this top five coworking spaces in Tokyo, Japan since this original article appeared in 2021. There were more coworking spaces offering exceptional quality that we had to share with our readers. Please see the additions here along with the initial list.
Hakusan House
Hakusan House coworking space in Japan is a flexible space with a 30-person capacity that is only suitable for students, Japanese or international.
It offers computer monitor rentals, as well as a copy machine and snack and drinks machines. Hakusan House is located close to an entertainment complex with restaurants and shops.

Fabbit Global Gateway
Fabbit Global Gateway "Otemachi" coworking space in Japan is well-connected to Tokyo station and provides a variety of open seating areas and private offices for up to 30 persons.
This coworking space is super flexible, allowing you to rent a desk for a minimum of one day. Meeting and event spaces are also available.
1/3rd Life
The ideal choice for freelancers, entrepreneurs, and creatives who are looking for a co-working space that doubles up as a gym, 1/3rd Life is conveniently located just a couple of minutes away from JR Akihabara Station and Suehirocho Station. This is an exclusive co-working place that is fashionably decorated and even has a bar that served alcoholic drinks.
At 1/3rd Life you can choose from multiple desk and office spaces and enjoy an amazing chillout area with free coffee and tea. All members have access to the high-tech gym, as well as personal lockers and printing equipment. The outdoor terrace is perfect to ask your break and network with some of the other professionals.
This coworking space is also suitable for corporate seminars as it has projectors and microphones available, and the beautiful light makes it ideal for video shooting and photography (you can book the space in advance for these activities).
The Hive Jinnan
Located in the Shibuya district, within walking distance from the JR Akihabara Station, The Hive Jinnan has a pleasant interior decorated with vintage looking photos and soft tones. It's a calming co-working space where you can get comfortable quickly. And because it's close to Yoyogi Park and central Shibuya, The Hive Jinnan makes it possible to enjoy a walk during your break.
All members have access to personal lockers so you don't have to worry about your belongings, and you can choose between regular and standing desks. This co-working space offers everything you need for successful workday, ranging from super-fast Wi-Fi to printing equipment.
You can take a break and relax on the outdoor terrace enjoy free coffee and tea all day long. The Hive Jinnan also has a bar available where you can purchase alcoholic drinks and snacks. All members get unlimited 24 seven access to the premises as well as free passes for workshops and events. Drop-in options are available, but you can also get a monthly membership as well.


Blink Community
Located in the bustling neighbourhood of Roppongi Hills, the Blink Community is home to an international crowd. The workspaces are spread across five floors, where you will find numerous Japanese and English speakers. The co-working space has a stylish décor and is home to numerous workshops hosted in different languages.
Best suited for early-stage start-ups and tech entrepreneurs, the Blink Community is home to over 90 companies in 20 industries and hosts more than 200 events every year. You can choose from multiple types of memberships, with the Coffee Lounge Table being a popular option because it allows you to optimize your productivity and creativity in a modern space while networking with like-minded creative people.
Hot desks are available for remote workers who need space for more than a week per month and dedicated workstations and private offices are also available for start-ups and small agencies who need access to their own stations.


The SNACK
Located just five minutes away from Ginza station, The Snack co-working space has a retro modern open plan design and offers 40 different seating options. You can choose from comfortable arm chairs and couches or opt for shared working tables. One of the best things about The Snack is the selection of food of beverages — you can enjoy freshly brewed artisan coffee and delicious paninis all day long. Plus, the first cup of coffee of the day is free for all members.
Besides grabbing a hot desk in the open plan seating area, you can also choose to get a dedicated desk or private office at The Snack. This is a very flexible coworking and you can book a desk for as little as one day.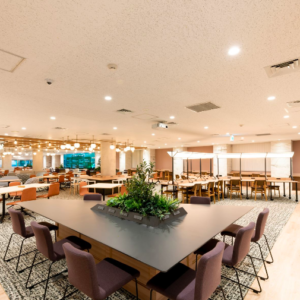 HAPON Shinjuku
HAPON Shinjuku is one of the most central coworking spaces in Tokyo, located just minutes from Shinjuku Station. This makes is a popular choice with travellers who want access to a super flexible working space. The space has a laid-back atmosphere and is quiet enough to get work done.
Most of the staff speak English and you can choose from private booths and open plan seating. Meeting rooms are available for renting and you can enjoy a selection of freshly made coffee from local producers. Special packages are available for travellers and visitors in need of extra flexibility.
Some of the services available include entry security card, mail pick-up service, and corporate registration. Discounts are available for members who rent booths for more than one month.
Biz BEACH
Biz BEACH CoWorking coworking space in Japan is conveniently situated just 10 minutes away from Haneda Airport, which makes it ideal for those who are on a layover in Tokyo.
It has a 30-person capacity and includes multiple amenities such as high-speed Wi-Fi, lounge area and free drinking water.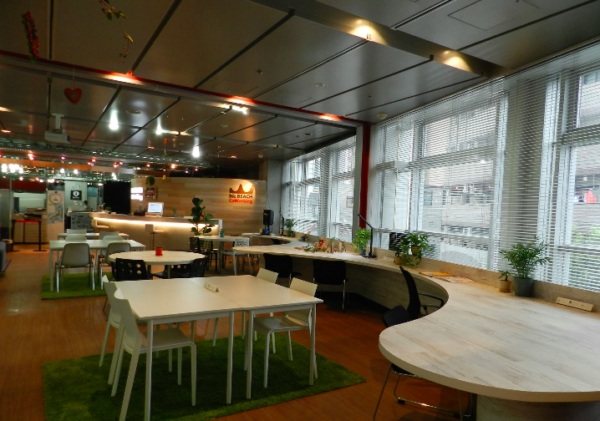 Biz Beach Coworking Space Tokyo p1