Work Remotely The Simple How-To Guide
A no-nonsense seven-step guide to remote working – this is your intimate industry insight into finding remote work and discovering opportunities to work from home.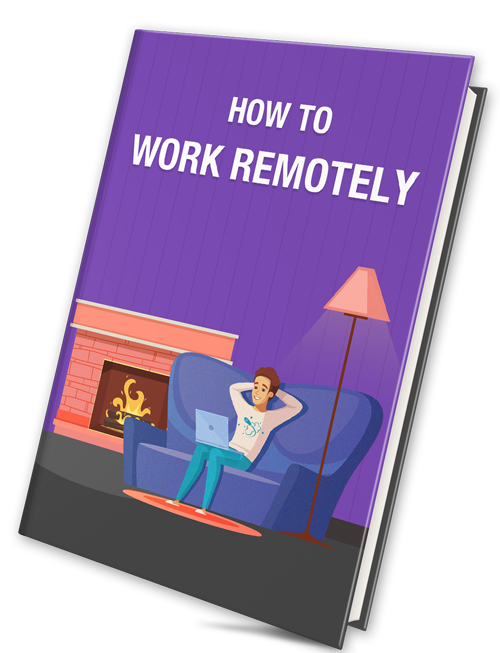 What exactly Is This Book?
The ultimate book on how to work from home & become a remote worker.
Crafted for anyone that is attracted to the remote work lifestyle and freedom.
Designed and geared towards those who want to skip the office and work from anywhere.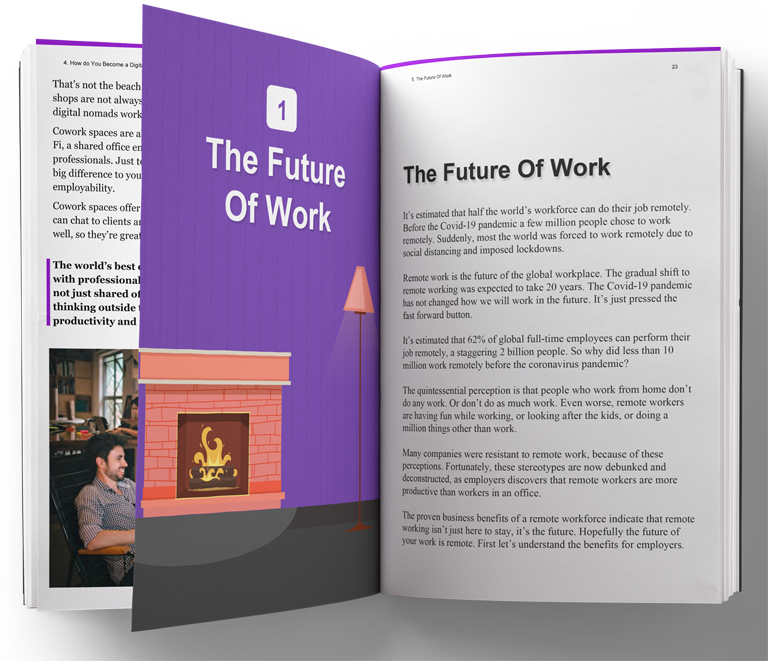 Why Do I Need This Book?
This isn't a definitive guide. The world of remote working is beyond boundaries and no book can cover everything.
Instead, this is a straight-talking and honest guide to remote work, designed for anyone who wants to work remotely.
This book will arm you with the know-how and skills to go out and get a remote job. It will guide you through what's different about remote working and how you can stand out from the crowd.
Use this book to understand the remote jobs market and what you need to do. Use this book to focus your job searching and find the space to be productive.
It's time to press fast forward and take your next steps towards the freedom of working remotely.
What's Inside The Book?
This ebook will take you on a seven-step process to remote working, so you can get skilled, find remote work, and maximise both your productivity and enjoyment.
1. The Future Of Work
See why remote working is so important and position yourself ahead of the curve. Future-proof your career by going remote.
2. Remote Job Opportunities
Explore the 15 most in-demand remote working professions, with advice on salaries and skills. Understand future-proof jobs and the professions performed remotely.
3. Get Future-Proof Skills
Discover how to the learn in-demand skills needed in the remote workforce. See how you can learn remotely and retrain for a new profession.
4. Finding Remote Work
Understand how getting a remote job is different and all the subtleties to consider. Learn how to maximise your search, tailor applications, improve virtual interviewing technique, and eventually work from anywhere. This chapter also covers remote work salary expectations, freelancing, and how to convince your boss you can work remotely.
5. Coworking
Optimise your work environment with a coworking space. Learn why this is so important and how to choose the most appropriate space for you.
6. Boost Your Productivity
Remote working requires subtle changes in how you work, such as finding an optimal working pattern, staying visible, and creating a boundary between life and work.
7. Coliving
Discover how you can share the experience in a coliving environment.
What's Not In This Book?
Let's not go over the top with promises. This ebook will help you find a remote job, but it won't offer you a job on a silver platter. It won't tell you how to get rich, how to get rich overnight, or promise a six-figure salary for a job you know nothing about.
This is a realistic guide broken down into seven easy to follow steps. So no promises, just honest industry advice that will help you make the step into remote working. You'll also learn about common pitfalls to avoid and discover how to future-proof your career for a remote environment.
This isn't the only book or the only advice you need either. The more you can absorb the better your opportunities. The only promise we can make is that something in this book will help you find remote work, whatever your situation right now.
Download Your Remote Working Book
Work Remotely – The Simple How-To Guide is a ebook created by Search Remotely, a leading platform for finding remote work. We use inside knowhow to help you find remote work.
If this book didn't help you then please let us know. We didn't just write it to get your email address – our mission is to make remote working easier for everyone, with plain, straight-talking advice and tools.